(The title is not a political exhortation, but an offer: gratis, not libre.)
The first of the new MWA Presents Classics program is Jeffery Deaver's A Hot and Sultry Night for Crime. This month, all month, Jeff's own story is available free, to members and non-members alike. Go HERE for a free download, and please spread the word to all your friends—the story is great, Jeff Deaver himself is fabulous (you know he's doing a workshop for us, right?) and hey, he's the MWA President, this year and next!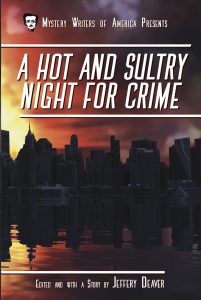 Here's the link: http://mysterywriters.org/a-free-taste-from-a-hot-and-sultry-night-for-crime-october-2017/
Tell all your friends!