Visit our YouTube channel!
Members-only podcasts and videos here.
Indie Publishing: Julie Smith and Heather Haven
MWA NorCal member and Edgar winning author Julie Smith talk about being an Independent Publisher. Find it on our Facebook page.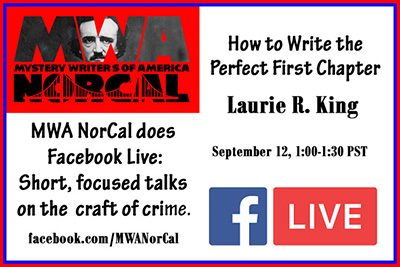 MWA NorCal / Facebook Live: a series of short, focused talks by NorCal members on specific areas of the writing craft, starting Sept. 12, 2020. Find them on our Facebook page, under Videos.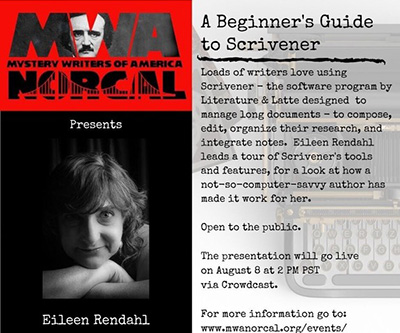 A Beginner's Guide to Scrivener: Loads of writers love using Scrivener to compose, edit, organize their research, integrate notes, and publish. Bestselling, award-winning author and NorCal board member Eileen Rendahl leads a tour of Scrivener's tools and features, for a look at how a not-so-computer-savvy author has made it work for her. Register to view this archived video.

Bay Area Book Festival #UNBOUND
Meg Gardiner & Rachel Howzell Hall in conversation with NorCal chapter President Laurie R. King on May 5, 2020.

Laurie R. King and Leslie S. Klinger speak with Rick Kleffel about Anatomy of Innocence at the San Francisco Public Library MWA NorCal-sponsored Anatomy of Innocence event, June 28, 2017.

Laurie R. King in conversation with Walter Mosley, June 3, 2017. Sponsored by Mystery Writers of America, NorCal chapter, and by the Bay Area Book Fest.