Visit our YouTube channel and Facebook Video page to catch up on past events.
Members-only podcasts and videos here.

The Mystery Novel and the U.S. Constitution
Retired District Attorney Micheal O'Connor dispels common myths crime fiction authors include in their novels and discusses various constitutional amendments and their relationship to the criminal process.

Becoming Your Own Publisher and Editing Your Fiction
Janet Dawson and Margaret Lucke discuss starting their own publishing companies to showcase their fiction and the fiction of others. The pros and cons of setting up a publishing company are discussed, as well as ideas for effectively marketing your fiction. Once you have a book to market, Laurie R. King and Zoe Quinton discuss how to edit your fiction. Jumping off from the MWA Handbook, How to Write a Mystery, Ms. King discusses strategies for improving and editing your fiction, while Ms. Quinton discusses the meta of what makes a book a novel.

Build A Better Website, Sell More Books, featuring Fauzia Burke

Panel: Passing on the Torch
Four award-winning queer mystery writers discuss the queer authors who influenced their work. Ellen Hart discusses J.M. Redman, John Copenhaver muses about Patricia Highsmith, Cheryl Head remembers Nikki Baker and Michael Nava talks about Joseph Hansen.

Amazon Ad Tutorial by Janet Margot

Facebook Live Presentation hosted by Glenda Carroll: To Outline or Not to Outline discussed by authors Margaret Dumas and Claire M. Johnson

Panel: Queer Mystery Writers
Five acclaimed queer mystery writers—Michael Nava (moderator), Cheryl A. Head, Greg Herren, Dharma Kelleher and P.J. Vernon—discussed the mystery genre and its special attraction to queer writers. This virtual event was streamed live on the San Francisco Public Library's YouTube channel.

Indie Publishing: Julie Smith and Heather Haven
MWA NorCal member and Edgar winning author Julie Smith talk about being an Independent Publisher. Find it on our Facebook page.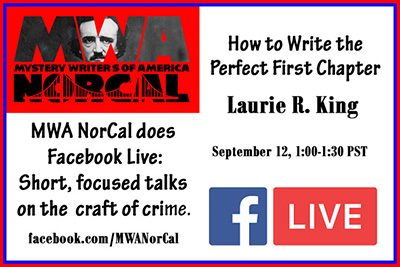 MWA NorCal / Facebook Live: a series of short, focused talks by NorCal members on specific areas of the writing craft, starting Sept. 12, 2020. Find them on our Facebook page, under Videos.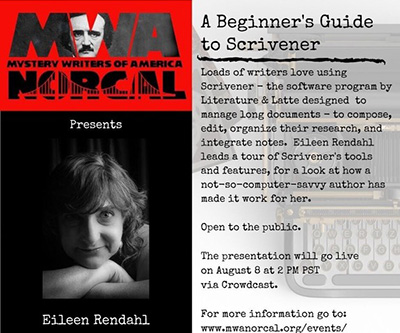 A Beginner's Guide to Scrivener: Loads of writers love using Scrivener to compose, edit, organize their research, integrate notes, and publish. Bestselling, award-winning author and NorCal board member Eileen Rendahl leads a tour of Scrivener's tools and features, for a look at how a not-so-computer-savvy author has made it work for her. Register to view this archived video.

Bay Area Book Festival #UNBOUND
Meg Gardiner & Rachel Howzell Hall in conversation with NorCal chapter President Laurie R. King on May 5, 2020.

Laurie R. King and Leslie S. Klinger speak with Rick Kleffel about Anatomy of Innocence at the San Francisco Public Library MWA NorCal-sponsored Anatomy of Innocence event, June 28, 2017.

Laurie R. King in conversation with Walter Mosley, June 3, 2017. Sponsored by Mystery Writers of America, NorCal chapter, and by the Bay Area Book Fest.