January 25, 2020
Self-Publishing Workshop
Our main speaker will be Brooke Warner—publisher of She Writes Press and SparkPress, president of Warner Coaching Inc., author of Write On, Sisters!, Green-light Your Book, What's Your Book?, a TEDx speaker, weekly podcaster (Write-minded with co-host Grant Faulkner of NaNoWriMo), and former Executive Editor of Seal Press. She currently sits on the boards of the Independent Book Publishers Association, the Bay Area Book Festival, and the National Association of Memoir Writers. She writes a monthly column for Publishers Weekly.
Rockridge Library
5366 College Ave.
Oakland, CA
10:30 AM-1 PM
February 15, 2020
The Why of Where: Crime Writers Talk About the Sense of Place in Crime Fiction
(Rescheduled from Mystery Week, due to the fires.)
Featuring Nancy Tingley (moderator), Glenda Carroll, Priscilla Royal, Susan C. Shea & Domenic Stansberry.
Petaluma Regional Library
100 Fairgrounds Drive
Petaluma, CA
10:30 AM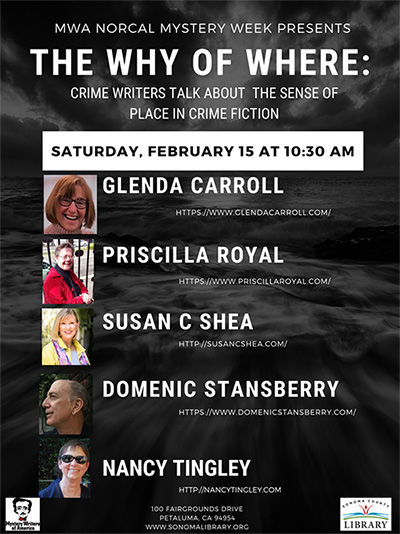 February 19, 2020
NorCal Noir: An Evening with Mystery Writers of America
Featuring Mark Coggins (moderator), Michael Nava, Claire Ortalda & Lisa Towles
Oakland Public Library – Dimond Branch
3565 Fruitvale Ave.
Oakland, CA
6:30 PM
March 12-15, 2020
Left Coast Crime
San Diego, CA
April 2020
Get Your Murder Scene Right
Dr. Judy Melinek, a board certified forensic pathologist, and with her husband, writer T.J. Mitchell, are the New York Times-bestselling coauthors of Working Stiff: Two Years, 262 Bodies, and the Making of a Medical Examiner, and the new forensic detective mystery First Cut. They will present an overview of death investigation procedures, and will discuss their process of weaving science and art into genre fiction.
Date & venue to be announced.
May 2-3, 2020
Bay Area Book Fest
Downtown Berkeley, CA
The Book Fest is a weekend celebrating the book—panels, international guest speakers, a park filled with tents and events all over. And this year, MWA NorCal will host MWA President Meg Gardiner. Put it on your calendar!
July 30-August 2, 2020
Book Passage Mystery Writing Conference
51 Tamal Vista Blvd.
Corte Madera, CA
Over the years, many MWA NorCal members have begun their writing careers at this amazing conference—with a $75 discount for MWA members! To get the discount, call Kathryn at 415-927-0960, x239.
October 15-18, 2020
Bouchercon
Hyatt Regency & Sheraton Grand Hotels
Sacramento, CA
Bouchercon 2020 is in the NorCal chapter area—so we'll be hosting events and meet-ups. Stay tuned!