October 19-26, 2019
Mystery Week
Across the chapter area, a week of panels, readings, Noir, and more.
Saturday, Oct. 19, 6:30 PM: LitQuake Noir at the Bar, Amnesia Beer & Music, 853 Valencia St., San Francisco
Laurie R. King (emcee), Randal Brandt, David Corbett, Alan Jacobson, Claire Johnson, Eileen Rendahl, Kelli Stanley
Monday, Oct. 21, 7 PM: Writing Mysteries Can Be Murder, Fremont Library, 2400 Stephenson Blvd, Fremont
Heather Haven (moderator), Janet Dawson, Camille Minichino, Ann Parker, Rob Swigart
Tuesday, Oct. 22, 6 PM: Chills, Spills, and Mystery Writing Thrills, El Cerrito Library, 6510 Stockton Ave., El Cerrito
Randal Brandt (moderator), Mark Coggins, S. A. Lelchuk, Gigi Pandian, Terry Shames, Kelli Stanley
Wednesday, Oct. 23, 7 PM: How Writers Scare Readers and Why Readers Love It, Redwood City Library, 1044 Middlefield Rd, Redwood City
Ellen Kirschman (moderator), Mysti Berry, John Billheimer, Margaret Dumas, Steve Hockensmith
Thursday, Oct. 24, 6:30 PM: Murderous Intent: Making a Killing on Mystery, Santa Cruz Library, 224 Church St., Santa Cruz
Laurie R. King (moderator), Sandra Balzo, Ellison Cooper (Jennifer Dornan-Fish), Mary Feliz, Katherine Hyde
Friday, Oct. 25, 7 PM: From Historical to Cozy to Romantic Suspense, There's a Mystery for Every Reader, Lafayette Library, 3491 Mt Diablo Blvd., Lafayette
Janice Peacock (moderator), Michael Cooper, Heather Haven Laurie R. King, Peggy Lucke
Saturday, Oct. 26, 2 PM: The Why of Where: crime writers talk about the sense of place in crime fiction, Petaluma Library, 100 Fairgrounds Drive, Petaluma
Nancy Tingley (moderator), Glenda Carroll, Priscilla Royal, Susan C. Shea, Domenic Stansberry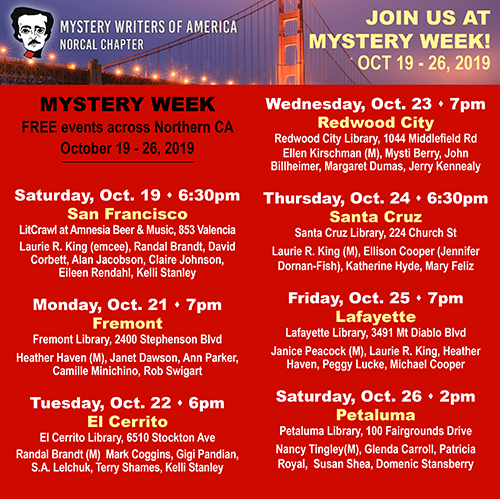 October 31-November 3, 2019
Bouchercon
"Denim, Diamonds, and Death" is the theme for the 2019 Dallas 50th anniversary Bouchercon. The planners intend to pull out all the stops for this one!
Friday, Nov. 1 at 11 AM in the Landmark Ballroom:
NorCal will be presenting a live performance of "The Ghost Town Mortuary," a radio play by Anthony Boucher & Denis Green, featuring Laurie R. King, David Corbett, Kelli Stanley, Reece Hirsch, Randal Brandt, Dale Berry, Gigi Pandian, James L'Etoile and Terry Shames.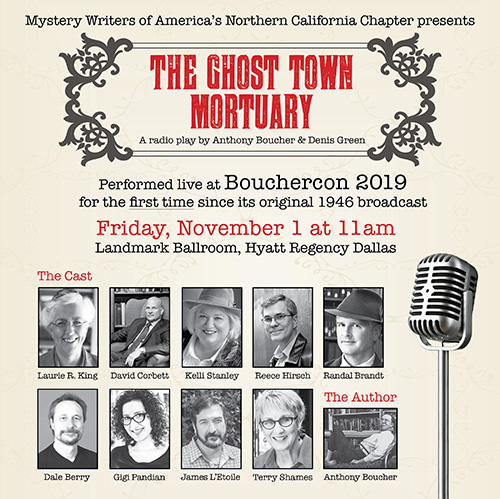 December 1, 2019
San Jose LocalLit
King Library
150 East San Fernando St.
San Jose, CA
2-5:30 PM
San Jose's King Library hosts their seventh annual LocalLit event, with authors and panels and book sales for your holiday giving needs. Details to come, but put this one on your calendar!
December 7, 2019
Holiday Party
Borderlands Books
866 Valencia St.
San Francisco, CA
2-4 PM
Mystery Writers of America and Sisters in Crime join pens to celebrate another fine year of crime writing. Come along and enjoy the cookies!