MWA President Jeff Deaver came to NorCal on March 10, to talk about "Writing Commercial Fiction."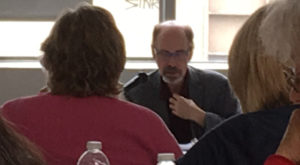 As an act of generosity to Mystery Writers of America, Jeff has been traveling the country to speak to all eleven MWA chapters on the topic–at no charge to the chapters. From outlining to editing, self-pub to social media, Jeff's take on the craft of writing consistently compelling novels had NorCal's members scribbling notes,

talking excitedly during breaks, and headed home with looks of inspired determination in their eyes. We'll try to set up podcasts of a few of his sections, more on that in next month's Lineup if we succeed.
Thank you, Jeff Deaver!
(If you joined us, was there a particular quote that's going to go up on your writing wall? If so, share it with your fellows in the Comments.)