MWA NorCal board member Dale Berry is a San Francisco-based writer and illustrator, who has produced independent comics since 1986. His graphic novels (the Tales of the Moonlight Cutter series, The Be-Bop Barbarians with author Gary Phillips) have been published by mainstream, as well as his own imprint, Myriad Publications, and his graphic short stories have appeared in Alfred Hitchcock's Mystery Magazine. His life has included stints as a carnival barker, Pinkerton's guard, professional stagehand, fencing instructor, and rock radio DJ. He and Gary Phillips wrote the chapter on Graphic Stories for MWA's How to Write a Mystery.
(Credits: All images and samples are used for educational purposes only and constitute fair use. Any and all other artworks in this series of articles are public domain, and/or copyright their respective creators and publishers, unless otherwise noted.)
Note: click on an image to see a larger version.
Something new occurred in 1942, when a writer named Mickey Spillane debuted a tougher-than-tough private eye named Mike Lancer for Harvey Publications' Green Hornet Comics #10, in a story entitled "Mike Lancer and the Syndicate of Death." The violent tale of a glib, cynical investigator who takes no prisoners in his quest to eradicate a murder-for-hire gang killing of Wall Street bankers, it stands out in its stark counterpoint to the emotional range found in most other hardboiled, noirish crime tales of the time. It's something meaner, darker. Drawn by Harry Sahle, who is the only name credited on the opening page, and featuring scenes of violent gunplay and strangulation, it was Mike Lancer's only appearance. But in five short years and under a different name, it wouldn't be the last. And its author would be famous.
Frank Morrison Spillane was born in Brooklyn, New York, in March 1918, the only child of Irish bartender John and Scottish mother Catherine. Raised a street kid known as "Mickey," he began writing in the 1930s while still in high school, then after some brief college in Kansas worked a variety of jobs, including as a lifeguard in Queens and a stint as a trampoline artist for Ringling Bros. and Barnum & Bailey Circus. By 1936, he'd even dabbled in radio and very early television broadcasting around Coney Island.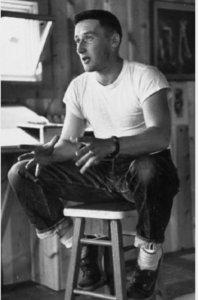 He claimed to have begun his professional writing career in the 1930s working for Hearst's King Features Syndicate and under 'house names' for various high quality 'slick' magazines, but then eventually drifted lower, into the mystery and adventure pulps. By 1940 he found himself drifting even lower into scripting comic books, when a chance introduction to a member of the Funnies Inc. packaging "shop" began netting him steady employment. He began by writing two-page text stories, short pieces that were required for every comic book of the time by the Post Office. This was so comics, as low budget as they were, could still contain enough "printed prose content" to be officially classified as actual "magazines", and thus guaranteed more affordable 2nd Class postage on shipping (later, these short stories would be replaced by the letter pages).
By 1941, Spillane was toiling anonymously writing one eight-page story a day at Funnies Inc., while also supplying several different companies freelance. In addition to the quickly overlooked Mike Lancer one-shot at Harvey Publications, he also wrote for superheroes The Human Torch, Captain America and The Sub-Mariner at Timely and The Target and Blue Bolt for Novelty Press. For DC-National he spoke of having supplied scripts for Superman and Batman, plus stories for Fawcett's Captain Marvel. Spillane reckons to have written over fifty of those two-page filler stories alone, which Funnies Inc. syndicated to various publishers, but he'd always sign under his own by-line.
He'd enlist in the Army Air Corps the day after Pearl Harbor, entering flight school and eventually becoming a fighter pilot. In 1945, while stationed in Greenwood, Mississippi as a flight instructor, he met and married his first wife. Soon, needing money for a new family home and eyeing a house 60 miles north of New York City, Spillane decided to enhance his income by returning once again to comic books, this time as a publisher.
As superheroes faded in popularity after the war, and with crime comics on the upswing filling the gap, Spillane began creating scripts about a hardboiled detective character called Mike Danger for this fledgling start-up company. Patterned after his Mike Lancer strip from a few years earlier, this Mike was also a violent, cynical, glib, tough-as-nails PI, but now working from a seedy office run by a faithful "Girl Friday" called Velda and helped out by a cop buddy called Pat Chambers.
Spillane, also apparently interested in marketing the series as a newspaper strip, worked with illustrators Mike Roy and Edwin Robbins to draw up a presentation story for both publication and possible syndication. Then, and to bring a little True Crime into these proceedings, in 1946 the financing for this proposed company fell through when Spillane's partner absconded with all the funds and the finished work disappeared.
Desperate, undaunted, and quite possibly very mad as hell, Spillane decided to rework the character into a novel, adding a first-person narrative, more sexual content and cranking up the violence. Changing the protagonist's name to "Mike Hammer" but keeping the rest of the Mike Danger cast the same, Mickey Spillane completed I, the Jury in just nine days.
Spillane's third iteration of the character is an angry and vindictive man, but also sentimental and utterly committed to anyone he lets become close. A veteran now, Hammer is driven to avenge the murder of a war buddy, during the course of which he will uncover a vast narcotics ring and murder his own psychiatrist, with whom he's fallen in love. He is an anti-hero who clearly doesn't understand just how scarred he is and is willing to kill to make things seem right.
Perhaps it was the seething, suppressed rage and unabashed, patriotic rule-breaking within the prose that appealed to the war-weary nation, seeking safe harbor for its PTSD. Maybe it was a boost from the new, cheaper paperback book format supplanting pulp magazines—and even comic books—in popularity. Either way, the combined sales of I, the Jury, for both the 1947 hardback and the 1948 Signet paperback combined, was a staggering 6 ½ million copies in the United States alone. It was a bona fide hit and continued to sell decades later.
Those missing Mike Danger stories would eventually wind up in the hands of a fly-by-night comic book publisher called Timor Publications. In 1954, unknown to Spillane and little noticed by anyone else, the initial, finished Mike Danger story and its undrawn scripts (now completed with terrible, hackneyed artwork) resurfaced in a comic book called Crime Detector, issues #3 and #4.
In issue #3, his first appearance, Danger helps rescue a socialite's brother in debt to a mobster (graphically shooting a gangster's ear off at one point). In the next issue, Danger avenges the death of a childhood friend turned burlesque star by beating a confession out of the murderer, then arranging for him to be killed by a gorilla. And I'm not making that up. The most interesting thing about this particular story is its first-person narration by Danger, Mike Hammer-style, which shows a clear trial run for the Hammer novels. The issue also features a one-page filler story about an obsessive stalker seeking to murder a woman named "Zelda," only to sneak into a window and try to strangle the wrong woman in her sleep. Although the author is uncredited, it's also written in the first person, and the violence and hothouse prose of this short episode fairly drips with the Spillane style.
So little was the impact of Mike Danger once he saw print, however, that by issue #5 of Crime Detector, and with the original stories used up, Mike Danger would be gone. Instead, there would be found "Gun Happy," a short, unauthorized comic adaption of the movie Gun Crazy, a film noir classic. At the time, that movie was already four years past. Mike Hammer, meanwhile, would be appearing on the big screen (again) the very next year.
Spillane's I, the Jury had already been adapted to film in 1953 (in 3D, no less!), and several Mike Hammer books have been made into movies before and since, but 1955's Kiss Me Deadly, directed by Robert Aldrich and starring Ralph Meeker as Hammer, is considered one of the last great films noir and, for many, the end of that genre's classic era. In it, Spillane's third detective Mike successfully rescues his secretary Velda from foreign spies but fails to prevent a nuclear meltdown that just possibly destroys all Los Angeles. Nihilistic even for noir, it marks the point in which the hardboiled PI genre begins to give way to Cold War paranoia.
So generic was the name "Mike Danger," meanwhile, that in the following years other comic book companies developed various characters with the same name. All were unrelated, and none survived more than a few issues. The original author never made a dime off any of this.
Spillane needn't have worried, assuming he noticed. His financial security was assured, and the larger-than-life careers of both author and creation were successfully launched. Savaged by critics, whom he ignored, by 1956 the Mike Hammer books were among the top ten best-selling American fiction titles of all time, and Mickey Spillane was a household name. He would come to typify a style, if not an entire school, of hardboiled crime fiction to the point of dominating it. Short stories, multiple reprintings, multiple movies and television series, various knockoffs and satires by others, an acting career for the author, celebrity status as a cultural icon, a 1983 lifetime achievement award from the Private Eye Writers of America and an Edgar Grand Master Award in 1995 would follow.
Mickey Spillane would pass away in July 2006, of pancreatic cancer. Friend and fellow author, MWA Grandmaster Max Allan Collins, a brand unto himself, is his literary executor.
And although a newspaper comic strip did happen (running for only one year, in 1954-55), it was Collins who would eventually bring the third Mike full circle in 2018, producing a comic book mini-series and collected graphic novel entitled Mickey Spillane's Mike Hammer: The Night I Died.
To Be Continued…